Axon's Year in Review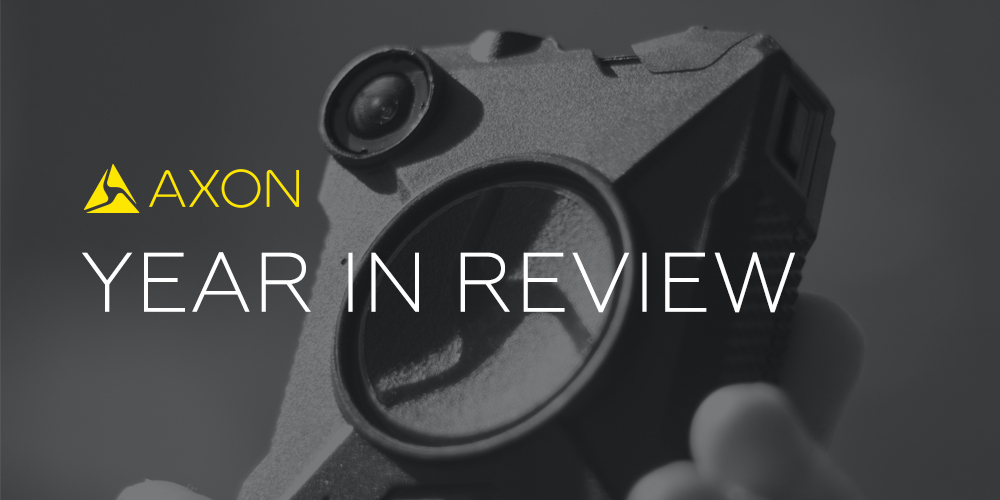 2015 was quite the year for body cameras and our Axon brand. We launched the new brand, saw heroes recorded in action, and learned more about how cameras have reduced citizen complaints and use of force. Here are some of our favorite Axon-related news stories from last year.
Okaloosa deputies found themselves in the national spotlight after an Axon body camera caught them rushing toward a burning car to save a stranded individual's life.
After reviewing nearly 200 nominations, we selected our annual RISE Award winners, recognizing law enforcement leaders who have transformed their communities. Their agencies received an Axon technology grant, a trip to the annual IACP Conference, and a one-year subscription to the PoliceOne Academy.
Launching the Axon Brand, June 18
In June, we officially launched Axon, our umbrella brand for our cameras and digital evidence management system. Axon joined the tech scene in Seattle, where its headquarters boasts a futuristic entrance portal.
Axon Body Cams Make the National News, July 29
Over the summer, body cameras were a hot news topic. In July, Axon cameras were prominently featured in an NBC News piece about the effect they've had on departments, promoting greater accountability.
A New Perspective, September 8
One Texas agency's Axon body camera footage went viral when the agency juxtaposed the BWC's perspective with the view from their dash cam. While the dash cam saw a normal stop, the body camera recorded a high-stakes situation.
Capturing Critical Encounters, September 18
An Axon camera captures remarkable footage of a stand-off between an individual and three deputies—a reminder of how important body cameras are in critical situations.
Announcing the Axon Body 2 and Axon Fleet, October 24-27
At the annual IACP Conference, we unveiled our latest Axon cameras—the Body 2, which boasts unlimited HD, and Fleet, our revolutionary in-car system—and our Azure GovCloud partnership with Microsoft.
A "Seamless" Platform, November 18
In the fall, The Verge took a deep dive into our "all-in-one law enforcement technology system," as they called it, highlighting how we've become an industry leader with our connected technologies, "extending from the camera lens to the prosecutor's laptop."
Axon Camera Footage Disproves Accusation Against a Deputy, November 20
Axon body camera footage helped discredit an accusation leveled against a Knox County Sheriff's Office deputy. Without the BWC footage, he could have been charged with a class B felony.
Partnering with the London Metropolitan Police Service, November 24
In November, the London Metropolitan Police Service announced that it would deploy 22,000 Axon Body 2 cameras in 2016 after a one-year pilot—our largest BWC order yet.
Looking Forward to 2016
While we had a great 2015, 2016 may prove to be even better. Here's a glimpse of what's on the horizon in the first few months of the year:
Body 2 will start shipping to agencies across the country. It features advanced capabilities, unlimited HD, and its predecessor's powerful simplicity.
We're continuing to make the device assignment process simpler for Body 2. We've already released the Axon Device Manager, which streamlines the process so administrators don't have to spend hours assigning cameras.
Evidence.com will soon run on Microsoft Azure. Learn more about our partnership with Microsoft here.
We'll be making it easier to find and upload evidence with enhancements to search functionality and expanded evidence types.
Evidence.com integrates with your CAD/RMS systems already, and we'll be enabling broader integration through our Partner API.
Note to Investors: Our plans are subject to change. Visit our Investor Relations Safe Harbor Statement.